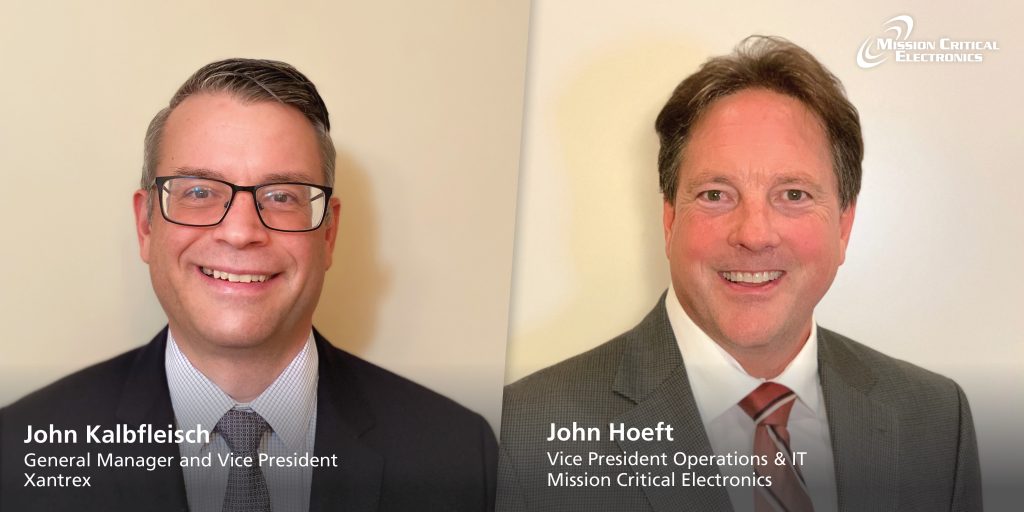 HUNTINGTON BEACH, Calif. – Jan. 14, 2021 – Mission Critical Electronics (MCE) — a company dedicated to keeping the world energized and ready by delivering power solutions where quality and responsiveness matter — recently announced the appointments of two new key personnel.
The most recent addition is John Kalbfleisch, who joined Xantrex as General Manager and Vice President in early December. Xantrex is an MCE brand based in Burnaby, Canada, that focuses on on-board AC power technology with products used in a variety of applications in the RV, marine, military, construction, EMS, bus, work service vehicle and commercial truck markets.
Kalbfleisch is an experienced business leader. He began his career at Siemens, managing a Die Maintenance team. From there, he transitioned to Celestica, where he successfully managed a large manufacturing team. That experience was followed over time by a series of Director roles in manufacturing and operations, then General Management at Creo and Kodak. Kalbfleisch then became the Chief Operating Officer at Alpha Technologies, a global leader in DC and AC power solutions, responsible for all aspects of their operations including R&D, manufacturing, supply chain, quality and managing their service business. Most recently, he was the Chief Operating Officer at Vast Industrial Corporation responsible for managing their portfolio of companies across a broad range of industries.
Kalbfleisch has a broad set of skills and experiences, including P&L management, manufacturing, global supply chain management, executive LEAN leadership, product development, mergers and acquisitions, and business transformation. He has degrees in Mechanical Engineering and Management, as well as an MBA, from McMaster University.
"John is a great addition to the MCE team. His broad set of skills and experiences will allow him to effectively support our company and partners," said Dale Tompkins, President of MCE's Vehicle Power Division which consists of Xantrex, Purkeys and Kussmaul brands.
In addition, as part of their efforts to optimize operations and supply chain processes, MCE also announced in mid-November the addition of John Hoeft as the MCE Vice President of Operations and IT.
Hoeft is an experienced operations leader, with a passion for lean manufacturing and continuous improvement. He began his career in the automotive industry at Northern Engraving, where he performed several different roles, including Industrial Engineering, Plant Management and LEAN Manufacturing. Hoeft left Northern Engraving to join ATK Onalaska Operations, where he was the Senior Operations Manager for the large manufacturing facility. He also spent time as a Plant Manager with the Trane Company, building large industrial chillers. Most recently, Hoeft was the VP of Operations for Advance Storage Products, a manufacturer of pallet rack systems.
"I am really pleased to have John joining the MCE team," said Kevin Moschetti, CEO of MCE. "John's experience and improvement-oriented mindset is the perfect fit for MCE as we continue to integrate our operations in order to deliver market leading solutions to our customers."
MCE is pleased to welcome these two leaders to the team.
For additional information, contact Mitul Chandrani at mitul.chandrani@xantrex.com.
About Xantrex
Xantrex is one of the most successful and popular brands of on-board AC power technology. Xantrex solutions are used in a variety of applications in the RV, marine, military, construction, EMS, bus, work service vehicle and commercial truck markets. Xantrex ensures its products are put through extensive reliability testing and certifies them to comply with applicable regulatory standards that meet or exceed requirements for safety, quality, efficiency and environment. With over 40 years of experience in design, engineering, and manufacturing, Xantrex power solutions offer a broad mix of advanced technology with unmatched reliability. For more information, please visit www.xantrex.com
About Mission Critical Electronics (MCE)
Headquartered in Huntington Beach, Calif., Mission Critical Electronics (MCE) provides specialized products for critical systems in a wide variety of applications operating under the leading brands Xantrex, Purkeys, Kussmaul Electronics, Newmar Power, ASEA Power Systems, Power Products and American Battery Charging. These brands have been built on the strength of their team and their ability to connect with customers. MCE takes great pride in translating their customers' needs into the highest quality products and solutions available in the markets it serves. MCE delivers those products and solutions with unmatched level of responsiveness. www.mission-critical-electronics.com