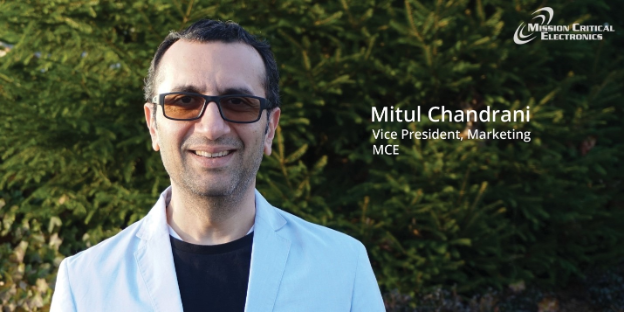 Costa Mesa Calif.– March 2, 2022 – MCE's Director of Marketing, Mitul Chandrani, is now the Vice President of Marketing at Mission Critical Electronics. Chandrani assumed his new responsibility on March 01, 2022. Chandrani is going to oversee marketing for all of MCE's subsidiary brands.
As the Vice-President of Marketing for MCE, Mitul will be responsible for defining and executing marketing strategy for Mission Critical Electronics by providing direction for brand level marketing strategies. He and his team will streamline and standardize our marketing activities across the MCE portfolio of brands to ensure that we remain true to our strong brands but within a consistent MCE style. In addition, Mitul and his team will ensure that people, culture, processes, and systems all support MCE's global strategy and performance expectations.
Mitul has an MBA in marketing, a Post Graduate certificate in International Marketing and a bachelor's degree in Civil Engineering. He has been part of the Xantrex business since 2007. Prior to joining Xantrex, Mitul was a Marketing Coordinator at JET Tools & Equipment. Mitul started his career in marketing at T-Series, one of the world's largest music companies and owner of the most subscribed and viewed YouTube channel.  
For additional information, contact Mitul Chandrani at mitul.chandrani@xantrex.com.
About Mission Critical Electronics
Headquartered in Huntington Beach, Calif., MCE provides specialized products for critical systems in a wide variety of applications operating under the leading brands Kussmaul Electronics, Newmar Power, ASEA Power Systems, Power Products, and American Battery Charging.  These brands have been built on the strength of their team and their ability to connect with customers. MCE takes great pride in translating its customers' needs into the highest quality products and solutions available in the markets it serves. MCE delivers those products and solutions with an unmatched level of responsiveness.
About Xantrex
The Xantrex brand is one of the most successful and popular brands of onboard AC power technology. Xantrex products are used in a variety of applications in the RV, marine, military, construction, EMS, bus, work service vehicle, and commercial truck markets. Xantrex ensures its products are put through extensive reliability testing and certifies its products to comply with various regulatory standards to meet or exceed the applicable requirements for safety, quality, efficiency, and environment. With more than three decades of design, engineering and manufacturing experience, Xantrex power solutions offer an enviable mix of advanced technology and unmatched bankability.